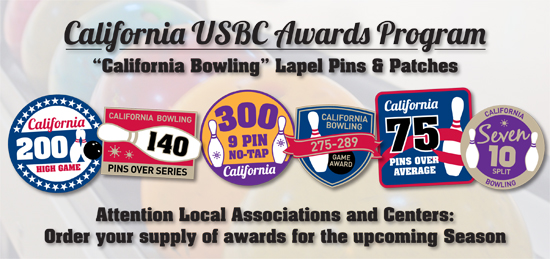 Let's award our bowlers i

n C

alifor

n

ia!
DOWNLOAD BROCHURE  |  DOWNLOAD ORDER FORM
---
The California USBC Association office in Marin County will be closed until further notice. You can leave messages on the main line at (415) 492-8880 or email us at larry.peppers@calusbc.com. If you have questions regarding our tournaments, you can contact each tournament director directly. Refunds for the Adult Championships and the Pepsi Youth Championships are currently in process.
---
San Francisco Chronicle
Bay Area authorities place strictest order in country: 'Shelter in place,' only essential businesses open in 6 counties
Six Bay Area counties announced a "shelter in place" order for all residents on Monday — the strictest measure of its kind in the country — directing everyone to stay inside their homes and away from others as much as possible for the next three weeks as public health officials desperately try to curb the rapid spread of coronavirus across the region.
The directive begins at 12:01 a.m. Tuesday and involves San Francisco, Santa Clara, San Mateo, Marin, Contra Costa and Alameda counties — a combined population of more than 6.7 million. It is to stay in place until at least April 7. Three other Bay Area counties — Sonoma, Solano and Napa — were not immediately included.
IMPORTANT ANNOUNCEMENT FROM THE CUSBC!
The California USBC Association Board of Directors met on 3/11/20 to discuss the mounting concerns over the COVID-19 pandemic. Our top concern is the health and safety of our members and families, and we appreciate your support in the following decisions:
The Pepsi Youth Championships, both local and state, scheduled to begin March 14, 2020 through May 2, 2020 is cancelled. Refunds will be coordinated with the Pepsi Directors and the participating centers.
The Helen Duval Veteran's Tournament (BVL) to be held on March 28, 2020, is cancelled and will be rescheduled if possible at a later date.
The Adult (Open & Women's) State Championships to be held at Forest Lanes, scheduled to begin April 4, 2020 through June 28, 2020 is also cancelled. Refunds are available to all bowlers. Please contact Jennie Simpson, Tournament Director.
The CUSBC Annual Meeting and Convention to be held in Fresno, CA scheduled for June 13-14, 2020 will remain scheduled until further notice.
We thank you for your commitment to our organization, value your membership, and look forward to seeing everyone out on the lanes very soon.
---
Bid on CUSBC Tournaments! 
Centers that are interested in hosting the following events should contact us at larry.peppers@calusbc.com.
– 2021 CA State Singles (October) – Southern CA
– 2021 CA State Senior Singles (August) – Northern CA
– 2021 CA Helen Duval Veteran's Tournament (March) – Northern CA
– 2022 CA State Championships (Adult: April-June; Youth: July) – Southern CA

---
New USBC Rules – Effective August 1, 2019
General Playing Rules: Rule 18, Bowling Ball
Only a dry towel can be used to clean a bowling ball during competition. Altering Surface Bowling balls cannot be cleaned with liquid substances or cleaning agents or have any foreign materials on the ball including but not limited to powder, rosin, marker or paint.
---
Bowling ball specifications – Effective August 1, 2020
• A bowling ball's oil absorption rate must be more than 2 minutes, 15 seconds for the ball to be approved
• Elimination of balance holes; bowlers may have up to five holes for gripping purposes and all must be used on every delivery
• No-thumb bowlers would need to mark by scribe, engraver or tool near the intended center of palm with a plus (+) mark
---
USBC Youth membership change (7/25/19)
Effective August 1, 2020
USBC will lower the maximum age for USBC Youth membership to 18 starting with the 2020-21 season. The decision to lower the maximum age from 20 to 18, with agreement from the Bowling Proprietors' Association of America and the IBC Youth Committee, will align bowling with other youth sports.
---

---
2020 CUSBC CONVENTION REGISTRATION

Local Association Managers need to register their credentials by clicking the red button above. DEADLINE: MAY 3, 2020
---

Delegates, Youth Representatives, California USBC members and Guests must register their attendance by clicking the blue button above. DEADLINE: MAY 10, 2020

Banquet Flyer | Banquet Order Form
Click here to buy banquet tickets with credit card
CONGRATULATIONS 2020 AWARD WINNERS…
Alvin Lou – Superior Performance
Steve Mathews – Superior Performance
Frank Weiler – Meritorious Service
SCHOLARSHIP WINNERS:
Jennifer Loredo – $2,500 Star of Tomorrow Award
Leoj Chin – $2,500 Star of Tomorrow Award
David Waybright – $1,000 Braheme Memorial Award
Leoj Chin – $1,000 State Scholarship Award
John Mehlum, Jr – $1,000 State Scholarship Award
---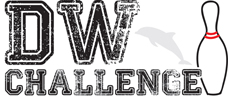 2020 Entry Forms now available
LOCAL QUALIFYING (June 27-28): Steve Cook's Fireside Lanes; Harley's Valley Bowl; La Habra 300 Bowl 
LAST CHANCE QUALIFYING, SEMI-FINALS and FINALS (August 8-9): Rancho Bowl, Santa Maria
Berths are also available through the Pepsi Championships and California State Championships!
---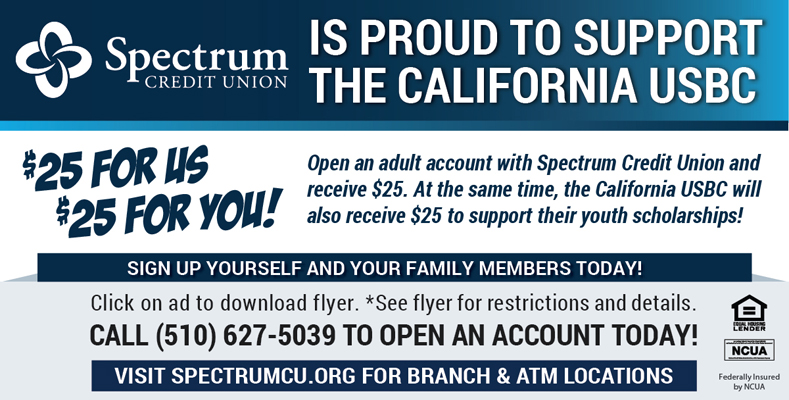 ---